‹ BACK
Oncology
Cancer treatments, second opinions and diagnosis by prominent cancer specialists

Medical Port partnered with the most recognized cancer treatment clinics and private hospitals to provide you with
 known oncology experts and state-of-the-art facilities.
Facing cancer – or the possibility of having it - is one of the hardest struggles a person can deal with in life. Make sure that you have all the right elements to increase the likelihood of success: a high quality medical team, supportive and sensitive staff and high-tech facilities at affordable costs in a location with sunny, warm weather - where the majority of population speaks English.
According to the World Health Organization, the earlier a cancer is detected, the more chances you have to overcome it. Whether you need a second opinion, a diagnosis confirmation or full cancer treatment, don't waste any more time.
If you would like to know more about Cancer Screening, Diagnosis, Second Opinions or Oncology Treatments, contact us through email, phone by calling +351 220 973 751, +351 211 379 718, +351 911 046 197, or by filling in this form. You can also contact us through our free call service to your right.
WATCH THE VIDEO OF OUR CUSTOMER:
Doctors who perform this medical procedure
Prof. Dr. Nuno Figueiredo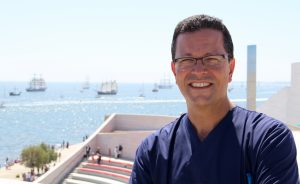 Director of Champalimaud Surgical Centre
Prof. Nuno Figueiredo is the Head of the Champalimaud Surgical Center since 2015. He is an internationally renowned colorectal surgeon and a certified robotic surgeon. In 2013 Prof. Figueiredo won the Pfizer Award for Fundamental Research.