‹ BACK
Champalimaud Clinical Centre
The Champalimaud Foundation is a reference in Portugal and in the world in the field of oncology. At their modernly equipped headquarters, research and medical activity occur side by side.
Champaulimaud Foundation is the postumous legacy of visionary and entrepreneurAntónio de Sommer Champalimaud. It was created in 2005 with the objective of preventing, diagnosing and treating diseases. This Foundation aims to become a world leader in scientific and technological innovation.
The Champalimaud Centre for the Unknown was inaugurated in 2010. With its state-of-the-art facilities, this Centre brings Portugal to the forefront of Science. It's currently under the direction of Dr. Zvi Fuks, a renowned medical scientist with broad experience in implementing technologies for cancer treatment, for instance, in Israel, USA and Europe.  Dr. Fuks is also worldwide recognized for his contributions to developments in the cure of ovarian and prostate cancer. He was the precursor of techniques like 3D-conformal radiotherapy (3D-CRT), Intensity-Modulated Radiation Therapy (IMRT), Single Dose Image Guided Radiotherapy (SD-IGRT).
The Champalimaud Centre for the Unknown hosts the Champalimaud Clinical Centre (CCC). Thus, clinical research and medical activity occur side by side. 
WATCH THE VIDEO OF OUR CUSTOMER:
Champalimaud Clinical Centre
The CCC was inaugurated in 2011. It provides specialized oncology care. It is equipped with the latest technology for the diagnosis and treatment of breast cancer, lung cancer, prostate cancer, digestive cancer and metastasis. Specialists are also able do provide a remote second opinion, for those who are not able to travel to Lisbon.
The CCC provides a service of systematic evaluation, based on a model of personalized medicine that has in account familiar and personal risk factors for each individual. Besides, there is a vigilance plan to prepare for the future. The goal is to provide a diagnosis of possible kinds of cancer at very precocious development stages. This way, there are better chances for treatment.
Among doctors, nurses, specialized technicians and aid staff, over 250 professionals make up the Champalimaud Clinical Centre. In 2015, it registered a global increase of activity by 40% - 25 458 patients and 48352 medical appointments undertaken.
If you'd like to learn more about advanced surgical solutions, cancer diagnosis and second opinion at the Champalimaud Clinical Centre, contact us through email, by calling +351 220 973 751, +351 211 379 718, +351 911 046 197, or by filling out our form. You can also contact us through our free call service on the right side of the page.
Oncology
Prof. Dr. Nuno Figueiredo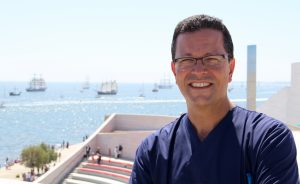 Director of Champalimaud Surgical Centre
Prof. Nuno Figueiredo is the Head of the Champalimaud Surgical Center since 2015. He is an internationally renowned colorectal surgeon and a certified robotic surgeon. In 2013 Prof. Figueiredo won the Pfizer Award for Fundamental Research.